Hii.. guys! I am currently laying on a beach, sippin' cocktails, and getting as bronzed as I can and I have graced you guys with some AMAZING guest bloggers.
First up, Emily over at Life of Emily. I have a special spot in my heart for this girl because she was one of the first girls to follow my blog and comment.
So, enjoy her post and show my girl some love.
Can't wait to tell you all about my vacation when I return.
xoxoxo.
Hey everyone! My name is Emily and I am blogging for the wonderful Kelsey today while she is on vacation, isn't she lucky! You can find me at
Life with Emily
where I blog about my life, fashion, entertainment and everything in between!
oh hey, that's me!
Today I am going to let you in on the summer looks I am loving. Kelsey and I share a passion for all things clothes/handbags/accessories so I know this post will fit right in with her blog! Summertime brings out all of the great prints, pastels, and sleeveless outfits that I love. Summer is definitely my favorite season for clothing (...fall is a close second!)
Summer Looks I Love....
Printed Bottoms:
Printed bottoms have been my new favorite item lately. Whether they are shorts, capris, or (gasp) pants I have loved trying this trend! There are so many ways to style printed bottoms and can easily be carried from day to night attire. They are pretty bold (be prepared to get some stares) but are so fun to try! Hey, you will always stand out, and who doesn't love to do that?!
Nautical Looks: When I think of summer I think of the beach, the sand, and being anywhere near water. Nautical looks allow me to feel like I have a little bit of the beach with me at all times. J.Crew has had some fabulous nautical pieces this summer (and I want every single one of them).


Bold Accessories:
I am from the south, which means our summers are scorching (it is currently 104 degrees here....seriously). I like to usually wear simple and cool clothing to keep from melting in the heat. An easy way to spice that up is to add bold accessories, like a necklace of bangles, to an outfit. They spice any outfit up- even that simple LBD. So, the next time you're looking to add to an outfit try something bold! You can't go wrong with it!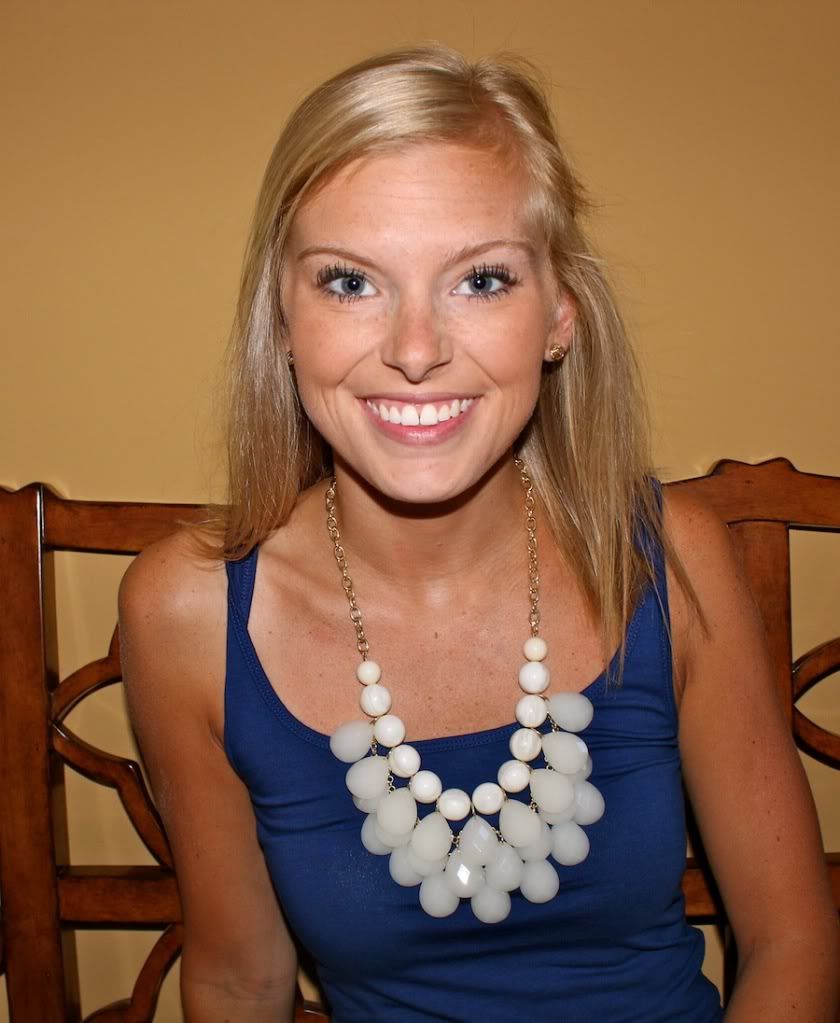 Wedges:
While I am a lover of clothes and handbags, I also have a soft spot for shoes. Wedges, in particular. They are the perfect summer shoe in my opinion. They look cute and add to an outfit while still being comfortable (err...most of the time). I love wearing wedges with my shorts and dresses to feel a little more girly and sassy!
I could go on and on...and on about summer looks that I love, but I'll spare y'all!
What looks do you love for the summer time?
Thanks Kelsey for letting me guest post for you!
I hope you're having a fabulous time on vacation!
You can find me here
Now, do ya see why I just love that girl, so adorable!
Thank you, Emily for guest blogging :)
All of you need to go to her blog and follow....asap.
xoxo-
Kels